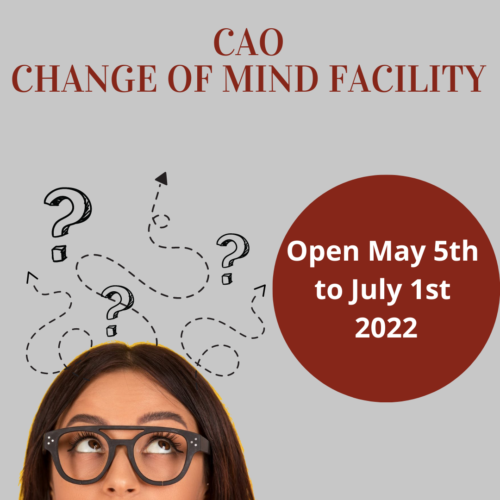 All You Need to Know About the CAO Change of Mind Facility
The CAO Change of Mind Facility opened on May 5th and will remain open until 5:00pm on July 1st.
The Central Applications Office (CAO) has begun emailing all applicants who applied to CAO by 1 February this year. The email instructs applicants to log in to their CAO account to confirm that all of their personal details, examination information, exemptions (if any) and course choices are recorded correctly on their accounts.  
Make sure you have received this email. Last year over 700 applicants received NO OFFER because they had not responded to the CAO. The main reason for this was because CAO email had gone unnoticed, so be sure to check your SPAM and JUNK folders.
This is your opportunity to ensure you're CAO choices are correct and make amendments if necessary. This facility can be used as often as needed and is free of charge. If you unsure of your career or course choices it's not too late to get some professional
advice. We at Whitney Career Guidance can help you make that final decision. But don't delay as the clock is ticking and we have limited availability between now and the end of June.
The Process
You can use the Change of Mind facility by logging into the "My Application" facility
Add/change courses by selecting "New List"
Ensure courses are listed in correct order of preference
Make sure you click "continue with course changes' to save your changes
Double check the confirmation email (check spam if you don't see it) to make sure all your changes are correct
Important Things to Note
Your new course choices will cancel your previous choices.
Level 8 and level 6/7 courses are separate – changes to level 6/7 courses do not affect your level 8 choices and vice versa.
Restricted courses, i.e. courses which require a portfolio or entrance test cannot be entered on the change of mind facility.
If there are errors or omissions – do not wait until August to notify the CAO as it will be too late. Now is the time to ensure your CAO choices are absolutely correct.
Make sure you get this very important CAO Application right.
For professional help and guidance contact Whitney Career Guidance on any of the following.
Email : whitneymail1@gmail.com or Mobile 0876763731.
www.whitneycareerguidance.com
Advice – Support – Clarity