Whitney Career Guidance is pleased to announce that we are now offering our full range of services online via Zoom.
This most notably includes our full Career Guidance Assessment which contains all the same features as the normal face to face appointment. All components of our tried and trusted formula are incorporated including;
Our unique Career Guidance Assessment tool, Soontobeme™, a multi-sensory career
guidance interest inventory designed to help you find the career that suits you most.
The benefit of working with experienced professionals with over 20 years experience in the
field.
Ongoing support, clarity and advice even after the assessment has been completed.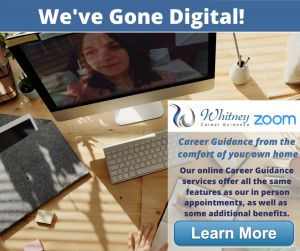 In addition there are many advantages to completing your assessment online such as;
completing the assessment from the comfort of your own home
availing of the most up to date information on college courses through a shared platform
eliminates the need for parents to take days off work as well as having to travel and find parking
all of the same back up and support, while still maintaining a personal relationship with your careers adviser.
Not only are we offering full Student and Adult Career Assessments, we've also taken our shorter, more tailored Career Discussion and CAO Top up appointments online too. We can also provide support to people in the area of Job Seeking /CV/Interview Skills.
Take the uncertainty out of your career planning and book your Online appointment now!